Event Phone: 951-970-1018
$120.00 per student
(plus $30 range fee if you are not a member of Rainbow Shooting Range) (Course fee includes 6 pistols. Each additional pistol after the 6th is $35 each)
DO NOT PAY FOR RANGE FEE ON THIS SITE. RANGE FEE WILL BE COLLECTED AT THE RANGE
(Non-refundable if canceled 2 weeks prior to the event)
(Payment and attendance of this course does not guarantee you will pass. You must pass the  safe gun handling evaluation and live fire qualification per California Department of Justice and Riverside/San Diego County Sheriff requirements.)
Prerequisites: FOR INTERMEDIATE SKILLED PISTOL SHOOTERS ONLY
Eligibility: Must be at least 21 years old to apply for the CA CCW. Those attending for training purposes must by 18 years of age or older.
LENGTH OF COURSE: 4 hrs 
Objective:
This course fulfills the firearms safety and qualification requirement needed to renew a concealed carry permit for Riverside and San Diego County's as well as the cities of Murrieta, Hemet, Menifee, Banning and Beaumont which have their own CCW permit process. Applicants must demonstrate knowledge and proficiency with each firearm they will be listing on their permit with emphasis placed on safety. Applicants must be able to safely draw their firearm from a concealed holster and engage targets accurately from  7,10, and 15 yards for Riverside County, and 3, 5, and 7 yards for San Diego County, Murrieta, Hemet, Menifee, Banning, and Beaumont  (scoring 70% or better to pass), then safely re-holster their pistol. Applicants will also be responsible for reacting to and safely correcting malfunctions without assistance from range staff.
The entire course will be conducted at Rainbow Shooting Range. The course will start with review and update on CCW policies, laws, and knowledge then continue with a range safety brief and course of fire brief before conducting live fire. Renewals will be required to participate in the dry fire malfunction drills. Participants will depart once their qualification is completed.
REQUIRED HOME STUDY – Student handout will be sent to you via e-mail about a week prior to the course date. Study the student handout. We will be discussing the information in class.
Required Materials/Gear for students:
Unload all CCW EDC gun(s) BEFORE you sign in and case them. Do not carry or holster them. You can reload and carry when you leave the event.
Keep your gun(s) in the case until we get you holstered. DO NOT walk around the range with a gun in your holster!
All pistols you will be including in your CCW permit

Modification – No limitations as long as it is safe and legal. Absolutely no modifications of factory safety features is allowed.

At least 2 magazines for each pistol
Required Ammunition

Riverside County: 18 rounds for each pistol you will be qualifying with. Three full cylinders for revolvers.
San Diego County: 50 rounds – 35 for training, 15 for practice, 15 for qualification. For each additional gun, 30 rounds – 15 for practice and 15 for qualification.
Murrieta, Hemet, Menifee, Banning, and Beaumont – 3 full magazines/cylinders per gun.
ALL SHOOTERS – BRING EXTRA AMMO TO COVER ANY AMMO MALFUNCTIONS YOU MAY EXPERIENCE. You will be participating in dry-fire training and will cycle through some of this ammunition.

OWB/IWB holster with retention capability ONLY. No leg, shoulder, ankle or off-body holsters.
Sturdy belt
Hat with brim to protect your head from hot brass. YOU WILL GET HIT WITH HOT BRASS!
Eye protection – Eyewear that offers side protection.

If you wear prescription glasses you MUST wear safety glasses over your prescription glasses!!!

(You can buy a pair from us for $5)
Ear protection – ELECTRONIC HEARING PROTECTION MANDATORY! This is for the safety of all participants. (You can rent for $10)
Shoes/boots. No open toed shoes
High neck shirt. No tank tops
Black ink pen
Range fee for non-members of Rainbow Shooting Range – $30 (Cash or check to RAI will be collected at the range) DO NOT CALL RAINBOW RANGE FOR COURSE INFORMATION. CALL US (951)970-1018.
Failure to bring required equipment/gear will result in dismissal from course.
OPTIONAL ITEMS
Magazine holster
Speed loaders for revolvers
Water
Folding Chair (There will be a 2 hour review before the start of the training and qualification)
REGISTRATION: If you have difficulties registering, send the following information to [email protected]
Name as you want it to appear on your documents
Address
Phone number
E-mail address. (Make sure you can receive e-mails from [email protected] to receive course information)

Driver's license number (Riverside County only)

Riverside or San Diego County? Murrieta, Hemet, Menifee, Banning or Beaumont?
Make/Model/Caliber/Serial Number of pistols you will be adding to your permit (IMPORTANT! MODEL AND SERIAL NUMBER MUST MATCH EXACTLY WHAT IS PRINTED ON THE GUN)
Are you an intermediate shooter capable of operating you pistol safely to include locking the slide to the rear?
Do you have safety glasses that offer side protection?
Do you have electronic hearing protection.
LOCATION:
Rainbow Shooting Range 3139 Rainbow Valley Blvd., Fallbrook, CA 92028
Instructor range. DO NOT PARK ON THE ASPHALT PARKING SPOTS.
E-MAIL CORRESPONDENCES
You will be receiving an e-mail a few days prior to the course date. Ensure you check your spam folder and/or allow [email protected] to be accepted as NOT spam.
NO PICTURES OF VIDEOS! For the privacy of all our students, do not take pictures of videos of the event.
Guns, Ammunition and Holsters.  We are a fully licensed firearms and ammunition dealer. If you would like to buy guns or ammunition, contact us BEFORE the course so you can add to your permit. We cannot sell/deliver ammo at the range. All firearms and ammunition transactions must be conducted on our premises.
We sell Bravo Concealment IWB and OWB gun and mag holsters. We carry for some of the more popular California carry guns like Glock 17. 19. 26 and similar, Shield 9/40, and Sig P365/XL. Unfortunately they do not make them for XD's yet. Other models available for CZ P10, HK VP9, 1911's. Hellcat, M&P 9/40, Taurus G2C, Glock 43/48, Sig P320 and also LH models. Price for all holsters is $27.99. Single mag holsters are $19,99, double mag holsters are $23.99. These are categorizes as "pancake" holsters because the are flat and keep the gun close to your body for concealability.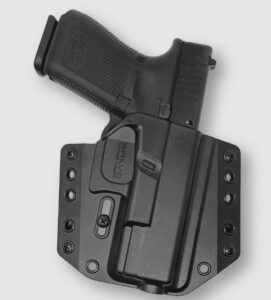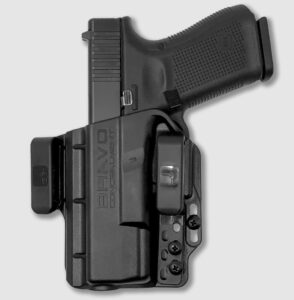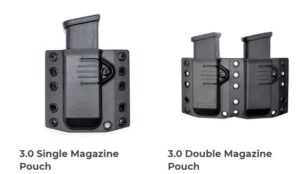 October 14, 2023


October 14, 2023




12:30 PM - 5:30 PM